Home
/
Manufacturing Capabilities
/
Automated Machining
Flexible Manufacturing with Advanced Technology means Increased Production through
Automation
Unmanned Production
Parallel Production
Multi-level Material Storage Capacity
Minimal Floor Space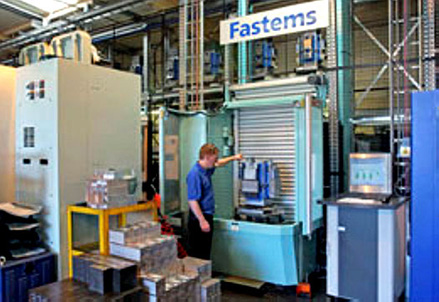 IT'S HOW YOU USE IT
Investing in state of the art equipment is not enough. How we use it is what matters. That means using best in class industry processes so we can offer world class machining capabilities to you. Extensive resources of tooling and gauging along with a robust quality system ensure we can meet tight tolerances and maintain unmatched quality.
Our Suite of Precision CNC machining resources features:
12 stand alone CNC Milling Machines (small to large size)

Vertical Milling (X Axis 160", Y Axis 36", Z Axis 44")
Horizontal Milling (39" Cube)

3 flexible machining lines with 10 horizontal machining centers
In-house CNC Programming
The most recent addition to our factory floor is FASTEMS, a Multi-Level System with pallet and material storage capacity to increase productivity and allow our company to grow to reach our production goals. It represents our 3rd flexible manufacturing system (FMS) allowing us to automate production with machine tools and run unmanned production. The FMS handles parallel production of many different part types in any order, which enables short throughput times and small batch sizes while preserving the benefits of mass production.
Key features of this system include:
Compact, modular, easily extendable
Large storage capacity with minimal floor space utilization
Material pallet handling in the same system
DMC high speed stacker cranes enable efficient transfer of pallets within the system
Adaptable to integrate any machinery as well as manually operated cells

Our highly skilled machinists consider themselves to be raw material craftsmen with expertise in all grades of stainless steel, alloy steel, brass and aluminum. We work with a wide range of raw material including castings, forgings, plate, and bar stock to name a few.
To really understand our investment in technology and capacity,
check out our equipment list
.