KINEMATIC AIRCRAFT SEATS »
ACCOMPLISHMENT
Customer and supplier partnerships are never a given-they are valued invitations to bring our best foot forward and collaborate on a shared goal.
For that vote of confidence, we are honored and proud to showcase here the results of just a few of many successful partnerships.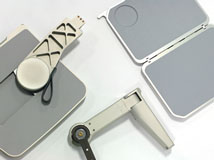 The exacting cosmetic requirements of this product line for a world-class airline interior supplier are quite challenging. In addition to surface finish uniformity achieved through blending, they must also have color consistency and require extreme process control. Additional processes include close tolerance machining and assembly. Due to the high volume nature of these parts, kitting and cellular manufacturing were employed for efficiency and reduction of lead time and inventory.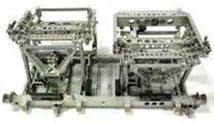 This business class seat assembly, comprised of 40 plus precision machined components and capable of multi axis movement represented a great achievement in design engineering. The seat allows passengers to lie down in a full flat position. Due to this complexity, the assembly sequence was critical to allow full functional movements of the product. Automated machining in kits proved to be invaluable for uct for inventory control and reduced material handling as these products were transported to an outside vendor for plating during the manufacturing process.
Back to Top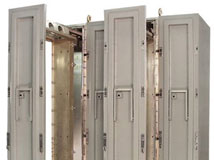 Comprised of over 800 components with close tolerance machining, precision sheet metal fabrication and military-certified welding, these cabinets were manufactured to house the Aegis radar system (radar controls installed on-board DDG51 Arliegh Burke Class Destroyer) Our close project and supply chain management, use of a dedicated lean cell and other strategic capabilities earned us the prestigious Aegis Award for Excellence from the US Navy for this product line.
Back to Top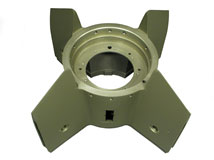 This high volume, precision machined casting for the defense industry is produced on one of our flexible manufacturing systems (FMS). Additional processes include assembly and paint. Discipline in lean manufacturing has allowed us to greatly reduce lead time and cycle time on this product line, resulting in cost savings and on time delivery. We also helped the customer identify and eliminate non-value added processes on this product for additional cost and lead time savings.
Back to Top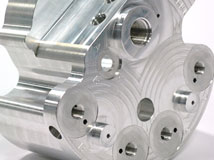 Classified by our customer as 'critical', the precision-machined manifold is a high-volume unit also produced on our FMS. This part requires complex machining with very close tolerances. We start this part with a cylinder of raw aluminum and remove 68% of the original material during the machining process.
Back to Top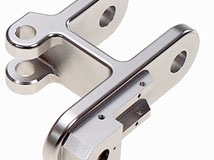 This stainless steel component of the PAYLOAD PARACHUTE RELEASE SYSTEM (PPRS)-a water activated, electro-explosive release which automatically separates the parachute canopy from its cargo load during an air drop-is used for our country's space program. It is an example of our ability to machine a safety-critical part to close tolerance while maintaining heightened cosmetic requirements.
Back to Top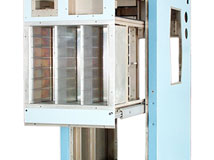 The Consolidated Automated Support System (CASS) is a multi-station, automated test equipment (ATE) system used to test Naval aircraft. Mid-Continent was chosen to manufacture this multi-component, precision sheet metal unit in part by the several designs submitted to the customer. Additionally, to ensure efficient production with fewer parts at lower cost and higher quality, Mid-Continent participated in Boothroyd Dewhurst's Design for Manufacture and Assembly (DFMA) training. The CASS cabinet project heralded our first product-based manufacturing cell with dedicated personnel & equipment.
CASE STUDY

»
Back to Top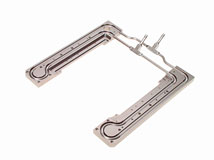 Used in medical x-ray products, the cold plate is an example of our vertically integrated capabilities including assembly, close tolerance machining, stainless steel tube bending, welding and leak testing.
Back to Top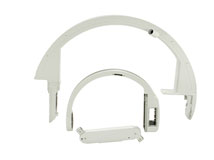 The C-Arm is an image intensifier used in a variety of surgical procedures such as cardiology, orthopedics and urology. It is a tight-tolerance, stretch formed extrusion assembly requiring precision machining and welding. Visual appearance is critical to our customer on this product. As a solution, we developed a proprietary brush finish process to ensure the high cosmetic requirements are consistently achieved.
CASE STUDY

»
Back to Top
Because of our demonstrated expertise with high-level assembly and program management, our customer requested we bid on their NMR table-a component of their Magnetic Resonance Imaging (MRI) system used to support and transfer a patient during the imaging process. We were able to apply our development/design-assist expertise and dedicate both engineering and product development teams to deliver a superior prototype.
CAse Study

»
Back to Top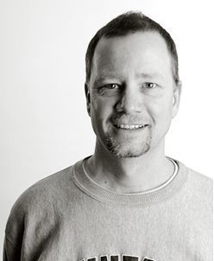 STEVE JOHNSON
Customer Service
25 years with Mid-Continent